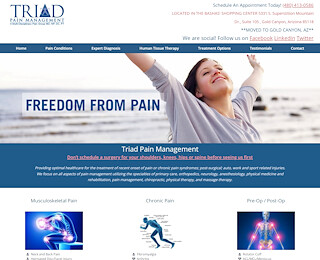 Are you searching for a clinic that can treat your back pain with medication in the Chandler area? Triad Pain Management Clinic can treat your back pain through medication therapy if other types of treatment have not worked for you in the past and if their staff determines you are a good candidate for medication.
No physician should lightly prescribe pain medication for any type of issue with pain, in fact it is the focus of Triad Clinic to do everything possible to treat their patients' pain through non-invasive, non-surgical and non-medical treatment if at all possible. Medication Management however, is an important part of their multi-disciplinary approach to managing pain, therefore, when a patient has a chronic pain condition, there are several pharmacologic treatments that can be used to address it.
Results for patients who have been recommended to employ medication management for their chronic pain are closely monitored to ensure that they are responding properly to the treatment.
There are different classes of medications that can be prescribed for the relief of pain, all of which will provide the best results when used in combination with other classes. These classes include:
- Anti-inflammatory or non-steroid medications such as Ibuprofen
- Acetaminophen
- Nerve pain meds
- Topical pain creams or patches
- Opioids or narcotics
The benefits of combining pain medication classes is that the patient may receive the greatest benefit at the lowest possible dose, which is always the goal. The lowest possible dose will result in the lowest possibility for side effects. Your chronic back pain may respond to medication prescribed by the Chandler Clinic, however responsible management of medication is crucial for your long-term health. Medication can provide the most benefit to patients when used at a single part of a multi-faceted approach to pain management.
Triad Pain management Clinic offers a wide range of treatment options aside from providing back pain medication in their Chandler location. They also provide intervention injections for pain control that can be extremely effective in managing pain. These can include Epidural steroid injections, trigger point injection, facet joint injections, medial branch blocks, sacroiliac injections, peripheral nerve block, intra-articular injections and steroid injection.
Surgery is often recommended for conditions that are causing chronic back pain. Triad Clinic offers the following procedures: Ablations, Facet Radio-frequency Neurotomy, Discography, Discectomy and Spinal Cord Stimulator Trial.
The highly-trained rehabilitation professionals at Triad Clinic are certified as ODG providers and are able to offer the most up to date treatment protocols available for all injuries and illness. On the chance that your back pain may respond to therapy rather than medication, the Chandler Clinic may recommend one or more types of therapy, including deep massage therapy, decompression therapy, active care of PT, passive care modalities, or another type.
If you're dealing with chronic pain, you may have thought you had exhausted all of your options. Triad Pain Management Clinic invites you to call their office at 480-413-0586 to make an appointment in their facility. Back pain medication is only one treatment type their Chandler clinic has to offer. Find out what their physicians can do for your pain.
Back Pain Medication Chandler