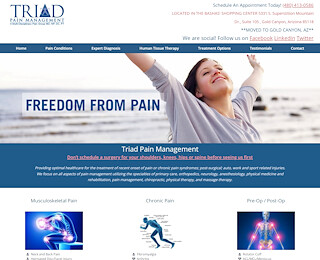 Are you seeking a chronic pain management clinic that can help provide an accurate diagnosis for your pain as well as treatment options to address your chronic pain? The physicians and staff at Triad Pain Management Clinic understand pain and are dedicated to finding solutions to eliminate their patients' pain.
If you're dealing with chronic pain due to Sciatica, Fibromyalgia, Arthritis, frozen shoulder, lower back pain, carpel tunnel syndrome, headaches, migraines or another cause, Triad Clinic can help. Chronic pain can often be treated by a chiropractor with better results than through surgery. Your pain can be considered chronic if it has lasted for longer than 3 months.
Perhaps you have been to one or more pain clinics that have failed to identify the cause of your pain. This is actually a common problem, since identification of where pain is stemming rom can be very difficult. Triad Pain Management Clinic's physicians and staff are expert in the assessment and diagnosis of chronic pain and can help to determine the origins of your pain, making it possible to better treat your condition.
Chronic pain is often caused many different factors, however pinpointing the cause is the first step in helping eliminate pain. Chiropractic treatment along with exercise is considered to be a very effective treatment combination for chronic pain management. Studies have repeatedly shown deep tissue massage to be effective when employed with Chiropractic care.
Triad Clinic uses Manipulation Under Anesthesia, or MUA, to treat chronic neck, back and joint problems that stem from old injuries. Patients suffering with long-term disabilities that have not responded to other forms of treatment are finding relief of pain through MUA. In fact, compared to surgery and other procedures, patients who have undergone MUA have higher activity rates and return to work faster, experiencing longer-lasting results than even surgery can provide.
You may be a good candidate for MUA treatment if you are dealing with a chronic disc problem a failed surgery, sciatica or have a decreased range of motion caused by scar tissue build-up. As well, many soft-tissue problems respond with excellent results from MUA, including Fibromyalgia, myofascial pain syndrome, chronic muscle spasms, headaches and migraines.
Chronic pain often responds to therapy, therefore Triad Pain Management Clinic offers a wide range of therapy services, including all of the following:
- Active care and physical therapy that promote mobility, function, quality of life and movement potential
- Passive care modalities including ultrasound, electric muscle stimulation and other therapies
- Chiropractic spinal manipulation and joint mobilization techniques
- Massage therapy to accelerate the rehabilitation process
- Decompression therapy, a non-surgical, non-invasive treatment
- Selective function movement assessment to diagnose dysfunctional movement patterns
- Functional capacity exams to determine an injured person's progression throughout rehab
Call the Chronic Pain Management Clinic in Chandler at 480-413-0586 to schedule an appointment or to speak with a specialist with regard to your condition. If you're dealing with chronic pain, you want answers now so treatment can begin immediately. Triad Clinic can help.
Chronic Pain Management Chandler