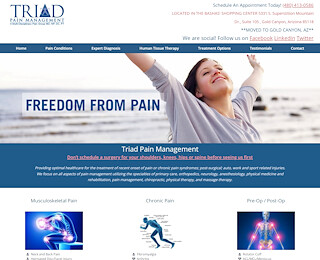 Are you seeking hip pain relief in the Chandler, AZ area? Triad Pain Management Clinic treats musculoskeletal pain that includes neck and back pain, herniated disc and facet injury pain, muscle and joint pain including sprains & strains, shoulder, elbow, wrist and hand pain, and hip, knee, ankle and foot pain.
Physicians and staff at Triad Pain Management Clinic focus on all aspects of pain management, using the specialties of primary care, orthopedics, neurology, anesthesiology, physical medicine and rehabilitation, pain management, chiropractic, physical therapy and massage therapy.
Using the proper type of evaluation, Triad Clinic can accurately diagnose the cause of your hip pain in cases where it is otherwise unknown. Your evaluation will involve history taking, a physical exam and a review of your medical records to assess and identify what is the exact cause of your pain so that the proper treatment can be employed. Triad pain Management Clinic diagnoses acute and chronic pain through a wide range of examinations and evaluations.
Depending on the cause of your pain, functional rehabilitation or physical therapy may help. Triad Clinic's physical medicine and rehab department consists of an interdisciplinary team that works together to care for patients, using the most current techniques and protocols. One on one therapy for hip pain relief in their Chandler Clinic may consist of one of more of the following types of treatment:
- Orthopedic therapy for a sport, work or accident-related injury
- Neck/back therapy
- Geriatric Therapy to help patients reclaim independence by improving balance, strength and function
- Pain management through improved function
- Neurological rehab for injury to the brain or spinal cord
- Balance and vestibular therapy to reduce dizziness and improve balance
- Sports medicine to help with recovery
- Cardio conditioning to return you to an active and independent life
Intervention injections are often recommended for pain control, including hip pain relief. The Chandler Clinic offers a variety of intervention injections including steroid injections that distribute steroids to areas experiencing inflammation, intra-articular injections to an affected joint, facet joint injections, trigger point injections to treat painful muscles, sacroiliac injections for arthritis pain, and others as well.
Medication management is sometimes employed when a patient has a chronic condition that is causing pain. Care must be taken to work closely with patients who are undergoing medication management to use the lowest dose possible and prescribe the right combination of medication classes that will result in the lowest risk of side effects.
Triad Clinic also provides a range of surgical procedures for patients who do not respond to other types of treatment options. Physicians and staff at Triad Clinic may recommend Ablations, Facet Radio-frequency Neurotomy, Discography, Discectomy or Spinal Cord Stimulator Trial.
Please contact Triad Pain Management Clinic at 480-413-0586 for more information about hip pain relief in the Chandler Clinic. First and foremost, their model of care focuses on non-surgical, non-pharmaceutical solutions to address pain. Make an appointment to see the highly skilled staff at Triad or go online to AZPain.com to learn more about the services offered at the Chandler Clinic.
Hip Pain Relief Chandler