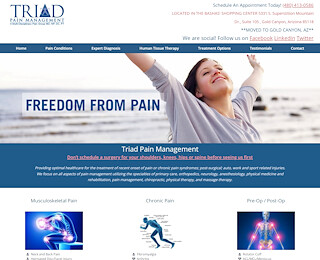 Are you experiencing joint pain? The Chandler clinic can help accurately diagnose your pain and find the right treatment option to address and eliminate your pain. If you're dealing with musculoskeletal pain in the back, neck, shoulder, elbow, wrist, hand, hip, knee, ankle or foot, consider contacting the staff from Triad Pain Management Clinic.
The physicians and staff at Triad Clinic are able to determine the cause of your pain through a variety of evaluations and examinations available to their clinic. An accurate diagnosis is key in finding the best method of treating your pain. Triad's staff is committed to finding the least-invasive method of pain management, including physical therapy and rehabilitation methods to treat pain, however their multi-disciplinary approach may also include medication management or surgery options for pain that does not respond to other types of treatment.
Intervention injections are often used to treat joint pain in the Chandler Clinic. Triad Pain Management Clinic employs the following types of intervention injection:
- Epidural steroid, one of the most common type of treatment for chronic back pain, which distributes steroids to an area of inflammation, resulting in reduction or elimination of pain.
- Trigger point injections for muscle knots or painful areas where muscles are knotted up and will not relax.
- Facet joint injections for use of a local anesthetic or steroid medication that can often block the pain that the patient is experiencing.
- Medial branch blocks that are able to eliminate pain when no other treatment option has been able to.
- Sacroiliac injections, which have a dual purpose in their use: first, accurately diagnose sacroiliac joint dysfunction and second, to provide joint pain relief. The Chandler Clinic offers sacroiliac injections along with a wide range of services to eliminate pain.
Injections to eliminate or block pain are only one facet of treatment available to patients with joint pain in the Chandler Clinic. Triad Clinic also offers a range of functional rehabilitation and therapy options to treat joint pain. Passive Care Modalities, such as ultrasound, electric muscle stimulation, Russian stimulation, TENS and other therapies, are often employed to reduce pain, swelling and seas while promoting the healing process.
Massage therapy is also used as a method of eliminating joint pain for Chandler residents who come in to the Clinic looking for pain relief. Massage is a manual therapy that is proven to accelerate the rehabilitation process. Massage may include such techniques as active release, myofascial release and other forms of proprioceptive neuromuscular facilitation.
For those seeking joint pain relief from older injuries in the Chandler Clinic, Manipulation Under Anesthesia may prove to be extremely effective in treatment. If you have a long-term disability and have not been able to find relief through conservative treatment, you may consider speaking with the staff at road Clinic about MUA for your chronic joint pain.
Make an appointment in the Triad Pain Management Clinic today by calling 480-413-0586 or let a specialist answer your questions or address your concerns. If you're dealing with pain, Triad Pain Management Clinic can help.
Joint Pain Chandler