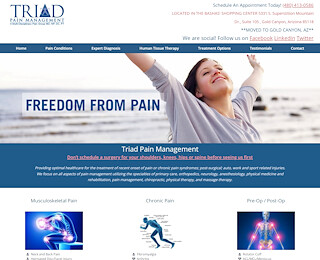 Have you been diagnosed with a condition that requires lumbar decompression in the Chandler area? Consider coming in to Triad pain Management Clinic for a modern approach to care. If you're in pain, the Triad Clinic has answers to the issues you're facing.
The model of care at Triad Pain Management Clinic focuses on non-surgical, non-pharmaceutical solutions, first. This does not discount the reality that some patients require surgery or medication treatment for their pain, however it does strongly emphasize that many patients can be treated with non-invasive methods, and that it is beneficial to try them first.
Lumbar Decompression is one such treatment that the Chandler Clinic uses for spinal pain treatment, in fact, it is considered one of the most effective alternatives to back surgery. It is possible to reduce and even eliminate back pain by seeing your Chiropractor for spinal decompression. Consider the many benefits of having lumbar decompression treatment in the Chandler Clinic:
- Lumbar Decompression is painless and therefore, in some aspects, is a superior alternative to having back surgery.
- The cost of Lumbar Decompression is significantly lower than undergoing back surgery, making it an alternative that fits the budget of many. Considering the very low cost most Chiropractors charge for this procedure, it should be considered a first attempt in resolving back pain.
- Being a surgical alternative means there are fewer side effects associated with the procedure itself, along with the low recovery time advantage.
- During decompression, the spinal cord is stretched, making space for the movement of water, nutrients and oxygen, which promote healing to the area. When circulation is enhanced, nutrient-rich fluids are able to flood the area.
Lumbar Decompression is able to help patients dealing with:
- A bulging or protruding disc
- A herniated disc
- Sciatica
- Stenosis
- Disc generation
- Facet syndrome
It is the prime goal of Triad Pain Management Clinic to diagnose the origin of your pain and restore health and function so you can return to the quality of life you deserve. To that end, the physicians and staff from the clinic may recommend Lumbar Decompression in their Chandler Clinic for patients with back pain, after a thorough assessment to determine the origin of your pain and how to best treat it.
Through the correct type of evaluation, the physicians from Triad Clinic will accurately determine where your pain is likely stemming from so that the proper treatment can be provided. Lumbar Decompression therapy is only one of the therapy services used in the Chandler Clinic to treat back pain that is preventing their patients from enjoying a pain-free life.
To learn more about having Lumbar Decompression in Chandler, AZ, visit AZPain.com or call Triad Pain Management Clinic at 480-413-0586 to schedule an evaluation. The staff at Triad Clinic is passionate about finding solutions to your pain. Feel free to use their website as a free resource to learn more about back pain and the multi-disciplinary methods used at the clinic to treat pain.
Lumbar Decompression Chandler