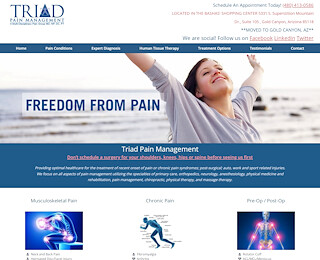 Find neck pain relief in the Chandler Clinic that provides a wide range of treatment options for patients with both acute and chronic pain. If you're dealing with musculoskeletal pain in the neck or back, there is no better place to seek treatment than Triad Pain Management Clinic.
Triad Clinic focuses primarily on non-invasive and minimally-invasive solutions to resolve or manage pain problems. Surgical, pharmaceutical and more invasive options are available as well, however they are used only when all other options to address pain have been exhausted. Physicians and staff at Triad Clinic are committed to accurately diagnosing the origin of your pain and restoring health and function that will allow patients to return to the quality of life they deserve.
Massage Therapy is one form of treatment that can provide neck pain relief to Chandler residents dealing with ongoing pain. In fact, if massage therapy is performed by a skilled therapist and for the proper duration of time, it can be a very effective tool. Experts are in agreement that one-hour massage sessions from two to three times per week provide optimum results.
Neck pain is actually quite common and can present as the result of injury, such as from a car accident, from sleeping in a less-than-ideal position, from poor posture sitting at a computer, from carrying heavy accessories on one shoulder, rather than sharing the load between shoulders, and from other causes as well.
Anti-inflammatory medicines are one of the most often-recommended treatments for pain, however physicians who combine medications with other forms of treatment often see the best results in their patients. For example, an anti-inflammatory medicine in combination with massage therapy may yield the results the patient is looking for.
Cost-effectiveness is a tremendous benefit of receiving massage therapy for neck pain relief. Chandler residents will find Triad Pain management Clinic's massage therapy treatment to be an affordable alternative to more expensive treatment options, especially when considering costly procedures and surgeries.
Massage Therapy is only one treatment option among a myriad of services offered by Triad pain Management Clinic, however it is one you should speak with your physician about when you come in for your assessment. Functional rehabilitation and physical therapy are offered at the clinic as well, with a variety of neck and back therapy options available.
After your initial evaluation and examination, the staff at Triad Clinic will determine the best course of action to provide you with neck pain relief in their Chandler Clinic. Pain relief may come in the form of intervention injections, medication management, rehabilitation therapy, or through the use of surgery, depending on the results of your assessment.
Feel free to visit AZPain.com to learn more bout the treatment options available for neck pain relief in the Chandler Clinic or make a call to Triad Pain Management Clinic at 480-413-0586 with any questions you may have. Find out more about Triad's modern approach to care, and how they can help you manage your pain.
Neck Pain Relief Chandler