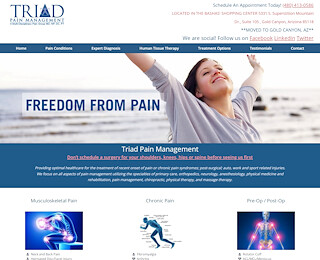 Are you dealing with nerve pain in the Chandler area? Triad Pain Management Clinic helps patients suffering with nerve pain through the accurate diagnosis of their condition, as well as treatments that are designed to target pain and make life more enjoyable.
Before you schedule surgery for your nerve pain, call Chandler area's number one pain management facility where you will undergo a thorough evaluation to determine the root cause of your pain. An accurate diagnosis is the best way to find the right treatment for your condition.
You may be experiencing nerve damage if you're experiencing any of the following:
- Tingling, burning or numbness that occurs in your extremities, often called a 'pins and needles' sensation or the feeling that part of your body has 'fallen asleep'.
- Weakness or paralysis making it difficult or even impossible to move a specific part of your body.
- Pain, burning or a tingling sensation that stems from the back and runs down one leg may be an indication that the sciatica nerve has become compressed.
- Damage to large nerves that affect your sensation can cause you to become more awkward than usual. If you notice a sudden lack of coordination or the feeling that you are unable to sense the position of your body, you should be seen by a professional immediately.
- Damage to nerves in the neck can lead to a condition that is called Occipital Neuralgia, and can cause short and intense headaches that feel like electrical shocks throughout the head or brain. A nerve block can effectively eliminate the pain.
- Injury caused by a lack of sensation can be alarming and warrants being seen by a doctor. The most common forms of injury in sensory nerve damage are cuts and burns, however many different types of injury can stem from not being able to feel objects which are sharp, hot or dangerous.
While nerve damage may not always be curable, there are many types of treatment that can greatly reduce symptoms to make life more manageable. If you have nerve pain, you should know that nerve damage is often progressive; the sooner you are seen by a professional, the better your chances of reducing the risks of permanent damage to your nerves.
Along with pain management, the prime goal of treatment is typically addressing any underlying condition that may be a cause to the pain. This may be done through physiotherapy, surgery, medication, or another type of treatment aimed at reducing or eliminating pain and managing the condition that is causing the pain.
Schedule an evaluation at Triad Pain Management Clinic by calling 480-413-0586 to allow their competent team to correctly diagnose your condition and find where you pain is coming from. The careful evaluation of your condition is crucial to your successful treatment plan.
Experts at Triad Clinic are dedicated to helping you find freedom from your pain and live the life you deserve to live. Take a closer look at Triad's pain procedures and treatment options on the AZPain.com website or call the facility today.
Nerve Pain Chandler