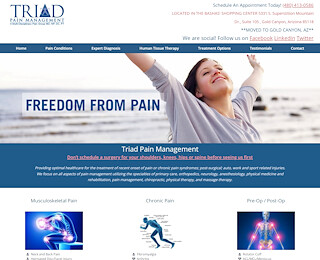 Triad Pain Management Clinic offers professional pinched nerve treatment in their Chandler clinic for patients who come in with cervical radiculopathy. Simply put, a pinched nerve can cause an enormous amount of pain, typically the kind of pain that is not able to be relieved through home treatments such as Ibuprofen or cold compresses.
The staff at Triad Clinic offers effective pinched nerve treatment in the Chandler facility. Their Chiropractors and pain management team treat a wide range of musculoskeletal pain from neck and back pain (including pinched nerves), pain from a herniated disc or a facet injury, pain from sprains and strains, upper body pain in the shoulder, elbow, wrist and hand, as well as lower body pain in the hip, knee, ankle and foot.
In many cases, a Chiropractor is able to relieve the pain from a pinched nerve through a series of manipulations to the spine over time, often resulting in immediate and long-term pain relief. The sad fact is that most people with a pinched nerve never seek Chiropractic treatment, which can bring the relief they are seeking, but instead manage their pain through medicines and hope and wait for the pain to go away on its own- which is sometimes does but most times does not.
Waiting for a pinched nerve to go away when treatment is available seems counter-productive to a healthy, pain-free lifestyle. Triad Clinic recommends patients with a suspected pinched nerve to come in for treatment in the Chandler location as soon as possible. Their Chiropractic doctor, who has been specially trained in issues of the nervous system, can easily diagnose and begin treatment for a pinched nerve.
Sometimes, though, a pinched nerve stems from more than just a nerve that has gotten pinched in between vertebrae. In these more severe cases, herniated disc material is pressing on a nerve root or the spinal cord, causing pain that the patient is unable to get relief from. A discectomy surgically removes this disc material, relieving pressure on the affected nerve(s).
Triad Pain management Clinic's staff uses a wide range of evaluations, examinations and diagnostic technology to diagnose and determine the origin of pain, allowing their professionals to come up with the best treatment plan possible. Using Electromyography testing, they are able to check the health of the muscles and the nerves that control the muscles. Along with nerve Conduction Velocity testing that detects nerve injury, their extensive evaluation process is a great assurance to patients that they are in the best possible hands, throughout diagnosis and treatment.
For more information on professional pinched nerve treatment in the Chandler facility, please visit AZPain.com where you'll find an informative collection of resources for the patient looking for treatment options. Read more about the professional staff and their unique qualifications to treat your pinched nerve and discover why locals consider Triad Clinic to be the most professional pain management center in AZ.
Make an appointment today by calling 480-413-0586 or stop by the Clinic located on S Alma School Rd.
Pinched Nerve Treatment Chandler