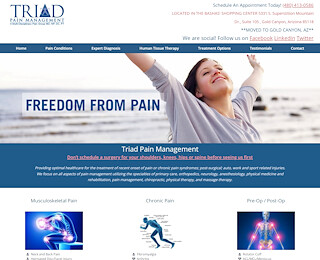 Are you searching for a clinic that provides Platelet Rich Plasma Therapy in Arizona? You'll find Triad Pain Management Clinic to be on the cutting edge of new treatments that help patients manage pain and serve to provide rehabilitation options. If you've wanted to take a closer look at Platelet Rich Plasma Therapy, consider calling Triad Clinic at 480-413-0586.
PRP Therapy is used to treat a wide range of conditions and helps to accelerate the healing of injured tissues in many areas throughout the body. Considered to be a next-generation injection procedure, PRP Therapy is most commonly used to treat:
- Rotator Cuff tears
- Osteoarthritis of the shoulder, hip, spine and knee
- ACL injury
- Back & neck injury
- Tennis elbow
- Ankle and ligament sprains
- Tendinitis
- And much more
Consider the main benefits of using Platelet Rich Plasma in Arizona's Triad Pain Management Clinic:
- PRP effectively treats chronic pain that is not responsive to other types of treatment. Patients who have undergone surgery and found that their condition did not improve often get relief from PRP Therapy. Other patients who have been on over-the-counter pain-reducing medicines with little or no relief also find that PRP works for them.
- Sports-related injuries respond well to Platelet Rich Plasma. Arizona athletes report an estimated 25-50% of their injuries being tendon-related issues; PRP Therapy reduces the symptoms associated with tendonitis and other tendon disorders.
- PRP Therapy has actually been shown to reverse the joint damage associated with Osteoarthritis, as well as decreasing the symptoms, including pain. A combination of PRP Therapy and stem cell treatment has been proven to restore hyaluronic acid concentrations in patients undergoing treatment. Knee pain seems to be especially responsive to this treatment combination.
- PRP Therapy is an effective treatment for Plantar Fasciitis and Jumper's or Runner's Knee. Not only does PRP reduce, and in some cases eliminate pain, it has been shown to heal these conditions, giving patients their best chances at a quick and full recovery.
- PRP Therapy is often the only form of treatment that is able to help patients manage lower back pain. In cases that are often considered difficult to treat PRP has been called a wonder treatment. Recent studies have shown that a significant percentage of patients with chronic lower back pain that has been resistant to effective treatment, see vast improvements in the reduction of pain as well as improvement of mobility.
If you've been thinking about scheduling surgery as a means to help manage your pain, come to Triad Pain management Clinic before you agree to surgery. Conditions which have traditionally required surgery or other invasive treatments are responding to PRP Therapy in beneficial ways.
PRP Therapy is able to repair the targeted area of injury where it has been injected using the patient's own blood concentrated platelets, promoting temporary relief from pain and stopping inflammation.
Learn more about effective Platelet Rich Plasma Therapy in Arizona area's most trusted Pain Management Clinic by calling 480-413-0586. Schedule your evaluation today and enjoy freedom from your pain.
Platelet Rich Plasma Arizona