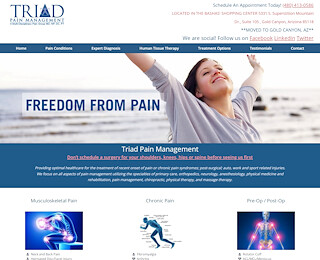 Finding effective shoulder pain relief in the Chandler area is as easy as contacting Triad Pain Management Clinic. If you're dealing with the chronic pain of Frozen Shoulder Syndrome, you'll need an accurate diagnosis before an effective treatment plan can be implemented. Triad Clinic's expert staff can correctly diagnose your shoulder pain and determine the next best course of action to eliminate your pain.
Frozen Shoulder is not easy to self-diagnose, even though you may seem to have all of the common symptoms that would point toward your condition being Frozen Shoulder Syndrome. Difficulty in diagnosing the condition is the main reason why you should be thoroughly evaluated by the staff at Triad Clinic before you decide on a treatment plan to address your pain.
The highly skilled staff at Triad Pain Management Clinic have a myriad of examination and evaluation options they are able to employ to determine the cause of your pain. Once an accurate diagnosis has been made, the best treatment or combination of treatments can be employed.
The signs and symptoms of Frozen Shoulder include pain and stiffness in your shoulder joint, with symptoms gradually getting worse over time and typically resolving in one to three years. If you are recovering from a medical condition or a procedure that has restricted your arm's movement, you are at a greater risk of developing Frozen Shoulder.
There are typically three unique stages that the patient may go through that can help to be a determining factor in whether they are dealing with Frozen Shoulder. Keep in mind that each of the stages develop slowly and that each stage can last for several months:
- Freezing. At this stage, any slight movement of the shoulder can cause pain, often times intense pain, with the range of motion beginning to self-limit. This is the most painful stage of Frozen Shoulder. Pain relief in the Chandler Clinic at this early stage can help to greatly reduce the amount of pain the patient is experiencing, as well as the length of each stage.
- Frozen. Although the pain typically begins to diminish during this second stage, the stiffness starts to set in and can severely limit the range of motion that the patient experiences.
- Thawing. During the thawing stage, the pain is usually gone or greatly reduced and the rate of motion in the shoulder begins to improve.
Frozen Shoulder is caused by the connective tissue around the shoulder joint thickening and tightening, and although doctors are not all in agreement as to why this happens to some people, it appears to occur with patients who have diabetes and those who have immobilized through shoulders for long durations of time.
Triad Pain Management Clinic offers effective treatment for Frozen Shoulder and can provide shoulder pain relief in their Chandler Clinic through rehabilitation and therapy. Their active care and physical therapy services promote mobility, function, quality of life and movement potential through one-on-one care based on each patient's specific needs.
For answers to your questions, please call Triad Clinic at 480-413-0586 or go online to AZPain.com to see a complete list of services offered.
Shoulder Pain Relief Chandler