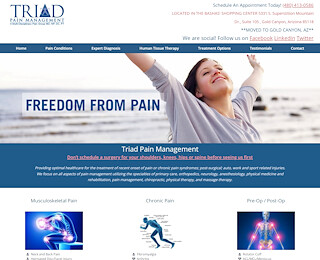 Are you searching for a facility that can manage your spinal stenosis in the Chandler area? If you're in pain, you can trust Triad Pain Management to diagnose your condition correctly and find the right solution to eliminate your pain.
Almost all patients who suffer from spinal stenosis have developed the condition as part of the aging process- although some may have been born with a congenital form of the condition. Spinal stenosis is characterized by the narrowing of the spine, and can happen at different locations, making it essential that proper diagnosis is obtained, to determine both the cause and the location of the affected area.
The professionals at Triad Pain Management Clinic are expert at diagnosing spinal Stenosis. No other Chandler clinic is as dedicated to finding the root cause of your condition and managing your pain, through a wealth of resources from therapy to regenerative treatment, chiropractic care, pain procedures and medication management if necessary.
If you've been giving thought to scheduling surgery for your spinal stenosis, consider coming to Chandler areas' Triad Pain Management Clinic first. You may not need surgery for your condition. Triad's specialists in the areas of pain management, physical medicine, rehab and anesthesiology create a unique team approach that can effectively manage your pain. Your road to recovery starts with a careful evaluation of your condition, and will include:
- A complete assessment of your medical history
- A thorough review of your medical records
- On-site diagnostic testing
An accurate diagnosis will help the professionals from Triad Clinic in determining the origin of your pain. If you suspect you are suffering from spinal stenosis, consider making an appointment at Triad Pain Management Clinic by calling 480-413-0586. The most common symptoms of spinal stenosis include:
- Pain when walking or standing that leads to a diminished level of activity, since the pain typically only occurs at times when the patient is upright.
- An increase of 'pins and needles' sensation throughout the body, typically in the extremities.
- Neck pain is typically prominent in spinal stenosis, due to the spinal canal's narrowing, causing nerves to become closer to one another.
- Changes in the ability to control the bladder and the bowel
- If you find yourself more apt to leaning over to experience relief from your back pain, it could be an indication of spinal stenosis.
- Pain that is not consistent but seems to come in waves is indicative of spinal stenosis.
Triad Pain Management Clinic can properly diagnose your back pain and provide you with a range of options for managing pain and working toward restoring your health. Their experts on musculoskeletal and chronic pain are proficient in helping clients get their lives back.
Experience freedom from pain and restored function by calling Triad Pain management Clinic at 480-413-0586 today to schedule a consultation for your spinal stenosis in the Chandler office. Feel free to read real client testimonials on the AZPain.com website that will convince you, you've found the right clinic to put your trust in.
Spinal Stenosis Chandler