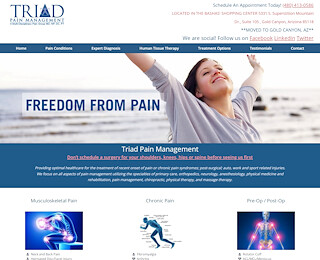 If you've been told there was little or nothing that could be done about your chronic condition, Triad Pain Management Clinic would like to invite you to learn more about their Stem Cell Treatment in Chandler, Arizona. New stem cell treatment is considered to be the latest treatment in helping patients experience pain relief and healing from numerous types of conditions.
Stem Cell Treatment uses tissue grafts to concentrate natural growth factors and treat target areas where patients are experiencing pain that is due to a specific condition. These growth factors have the ability to signal cells on-site to help in healing. Stem Cells are actually able to assist the body in reversing the damage to tissue.
If you're considering surgery to deal with your chronic pain, or have a surgery that is scheduled on the horizon, Triad Pain Management Clinic invites you to consider how Stem Cell Treatment in their Chandler, Arizona facility may help you:
- Stem Cell Therapy or Treatment (SCT) is ethical in nature, the stem cells having been harvested from the patient's own fat stores or in some cases having been donated by consenting mothers who are scheduled to undergo a Cesarean section. With so much focus on the unethical harvesting of stem cells in the past, it is comforting to patients to discover newer, more ethical methods are being used.
- In comparison to surgery, SCT is a very convenient and simple means of achieving pain relief for patients dealing with chronic pain.
- Many patients with conditions that are typically viewed as hard-to-treat are able to achieve pain-free results, as well as an improvement in function and mobility. This means it's possible to recover a lost quality of life through SCT.
- A wide range of conditions can be effectively treated through Stem Cell Treatment, including knee problems, such as meniscus tears and ACL tears, shoulder injuries that include rotator cuff tears and arthritis, spine conditions such as slipped disc and arthritis in the spine, and issues in the hips, hands, elbows and feet.
SCT is a safe, new alternative treatment for many conditions that cause chronic pain. If you've been considering stem cell treatment in Arizona, schedule an evaluation at Triad Pain Management Clinic. Through an accurate diagnosis of your problem, the best possible treatment plan can be implemented.
If you've been undergoing painful steroid shots that don't seem to be doing anything to help your condition, you may find that Stem Cell Treatment is better suited to your condition. Stem cells not only provide the pain relief patients are looking for, they are actually able to restore degenerated tissue, reversing damage in many cases.
Find out more about innovative new SCT by calling Triad Pain Management Clinic at 480-413-0586 or check out the Treatment Options link on the AZPain.com website, where you'll find a comprehensive list of treatments available. Triad Clinic treats a wide range of pain conditions- yours included. Why not make the call today?
Stem Cell Treatment Arizona