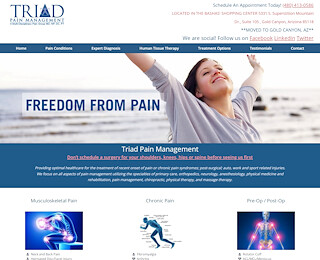 If you are considering treatments for pain using Platelet Rich Plasma, Chandler, Arizona's own Triad Pain Management Clinic uses PRP injections as well as other pain treatment methods to help patients quickly get on the way to be completely pain free. Physicians at Triad can help you start a customized treatment plan that is right for you; get the process started by calling (480)-413-0586 today or by viewing their official website at azpain.com.
Contact Us For A Free Consultation!
CONTACT US FOR A FREE CONSULTATION!
Hours of Operation
Monday: 8am-6:30pm
(closed from 1 to 2pm for lunch)
Tuesday: 8:00am to 2:00pm
Wednesday: 8:00am-6:30pm
(closed from 1 to 2pm for lunch)
Thursday: Closed
Friday: 8:00am to 4:30pm
Visit Us Today!
Phone: (480) 413-0586
Address: 2745 S Alma School Rd. Ste 2
Chandler, AZ 85286
Scroll to top