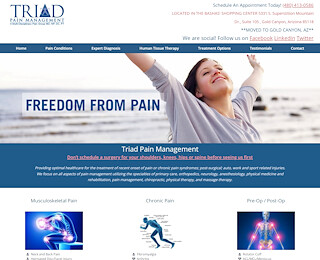 If you have been experiencing Shoulder Pain and need relief, Triad Pain Management Clinic in Chandler has pain relief treatment plans that can bring you some real and long-term relief from your pain. Triad has many different treatment plans for pain relief, and a skilled physician will set up a customized treatment plan with you to best suit your needs and keep you feeling great. To get your pain relief set up today, call (480)-413-0586 or see more details at azpain.com.
Contact Us For A Free Consultation!
CONTACT US FOR A FREE CONSULTATION!
Hours of Operation
Monday: 8am-6:30pm
(closed from 1 to 2pm for lunch)
Tuesday: 8:00am to 2:00pm
Wednesday: 8:00am-6:30pm
(closed from 1 to 2pm for lunch)
Thursday: Closed
Friday: 8:00am to 4:30pm
Visit Us Today!
Phone: (480) 413-0586
Address: 2745 S Alma School Rd. Ste 2
Chandler, AZ 85286
Scroll to top