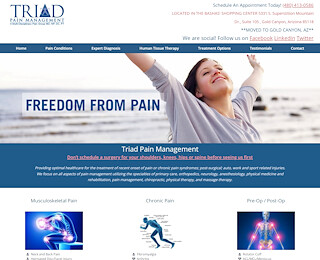 If you are experiencing pain from a slipped disc, Chandler, Arizona's Triad Pain Management Clinic has some of the best physicians and pain treatment plans in the United States. Caring staff at Triad will help you customize a treatment plan so that you can get exactly the pain relief treatments that are going to have you feeling back to your old self in no time. Call their office (480)-413-058 or view azpain.com to get your treatment plan underway today.
Contact Us For A Free Consultation!
CONTACT US FOR A FREE CONSULTATION!
Hours of Operation
Monday: 8am-6:30pm
(closed from 1 to 2pm for lunch)
Tuesday: 8:00am to 2:00pm
Wednesday: 8:00am-6:30pm
(closed from 1 to 2pm for lunch)
Thursday: Closed
Friday: 8:00am to 4:30pm
Visit Us Today!
Phone: (480) 413-0586
Address: 2745 S Alma School Rd. Ste 2
Chandler, AZ 85286
Scroll to top